Where can I find the auction?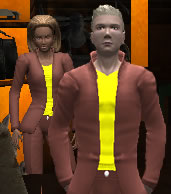 In all cities and at some outposts you will find a trade center building, where there is a NPC (Non-Playing Character) called "Auctioneer". The Auctioneer is easily distinguished since he or she is always dressed in a brown suite with a yellow shirt. You access the auction via the Auctioneer.
Why does the auction time sometimes change when I place a bid?
If you place a bid on an item that has 5 minutes or less left of its Auction time, the timer will be reset to five minutes. This will continue until no new bids are placed for a five minute period.
I sold my item to the Trade Terminal, is it possible to get it back?
It is possible to get an item you sold to the Trade Terminal back. However, this is not part of our regular service so an administrative fee of 1000 PED plus the Trade Terminal value of the item will be charged for each item that you wish to have recreated.
All requests must be submitted in a Support Case within 7 days of the incident. Please include the full exact name of the item, the date and the time of the transaction.
To avoid selling items to the Trade Terminal unintentionally, make sure to carefully check all items involved in the transaction before you confirm it.